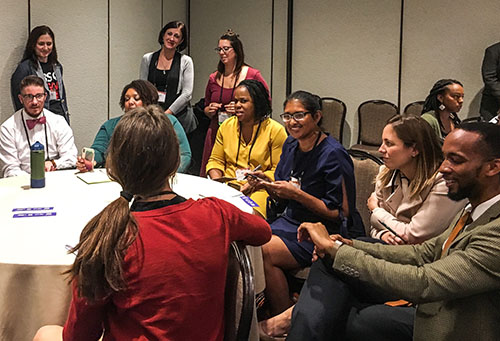 The submission window is closed. Grantmakers for Education invites members to propose learning sessions for our annual conference, Keeping Our Promises to the Next Generation: Education and Democracy, from February 20 to April 3, 2020. Only Grantmakers for Education members may propose conference sessions (learn more about membership here) – doing so is an exclusive member benefit.
We are seeking provocative proposals that proactively prepare funders for the future using engaging formats, innovative ideas, diverse perspectives and a focus on impact. Proposals should have clear learning objectives, specific strategies for engagement, and relevance for funders. Proposal topics should have clear connection to the conference theme and Grantmakers for Education's operating principles.
Proposal submission guide - please read before filling out the proposal submission form.
The following factors will be considered by our review board (planning committee and staff) during the proposal review process.
How well the content aligns with the conference theme.
Whether or not the content is about cutting-edge work in the research, practice, or philanthropy of education.
The quality and profile of the speakers. How the session is organized to offer a thoughtfully crafted learning experience.
The overall appeal of the session.
Whether or not this or a very similar session has been presented before.
Proposal submission form - note: you will need to create a new account to submit, even if you have submitted a proposal in past years.
Important dates:
February 20, 2020 — Submission period opens.
April 3, 2020 — DEADLINE EXTENDED. Proposals due by 5:00 p.m. Pacific.
Mid- to late June 2020 — Applicants will be notified about the status of their proposals.
September 30, 2020 – Conference registration deadline.
October 12-14, 2020 — Annual conference.
If you have questions, please contact programs@edfunders.org.