Together, What's Next
We exist to improve outcomes for all learners by serving as a trusted partner for all education philanthropists as they adapt to the changes impacting our world.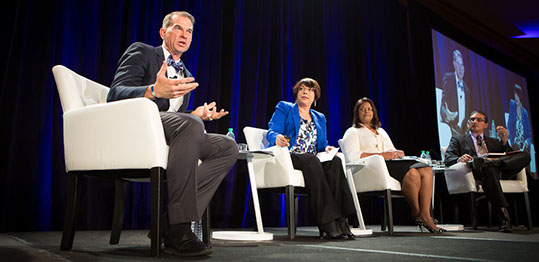 We have deep roots and many branches. Over the past 20 years, Grantmakers for Education (GFE) has grown into the largest and most diverse consortium of education philanthropists in the nation. Founded in 1995 on the premise that collective insights, shared resources and constructive collaboration enable grantmakers to make more intentional and impactful investments, Grantmakers for Education set out to demonstrate the power of networks in affecting greater change. Today, our branches are as wide as our roots are deep. With a diverse membership of nearly 300 organizations and 2,000 individuals, together, we extend the reach and expand the influence of education philanthropy.
We believe there is strength in numbers. That we can strengthen, deepen and broaden philanthropy's impact on public education by bringing together organizations united by a commitment to improve outcomes and expand opportunities for all learners.
We cheer from the sidelines and influence from the inner circle. By bringing people together and creating an informal and balanced environment for discussion, Grantmakers for Education offers important opportunities for meaningful dialogue, collaboration and action on the most critical challenges in public education today and into the future.
We bring more voices to the table to provoke new thinking and inspire action. The voices at Grantmakers for Education's "table" not only include those within our membership, but those beyond it. We provide our members with access to education's key thinkers and influencers and experts from outside sectors that can bring new thinking and draw new partners to our field.
We're not just focused on what's now. We're focused on what's next. Grantmakers for Education is anticipatory, proactive and adaptive. We are constantly evolving in ways that empower our members to be better prepared for tomorrow. With our finger on the pulse of our diverse network and an eye on the broader horizon, we keep members informed of relevant, pressing education issues while also identifying tools and knowledge that help address future challenges.
Together, we can go further faster. By working synchronously on complex challenges from every angle, Grantmakers for Education members are helping to shape the future of public education and, with it, the future of all learners across the country.