2017 Annual Conference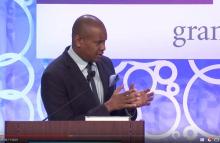 Watch general session videos on GFE Connects, an exclusive member benefit.
Grantmakers for Education's annual conference was held in Washington, D.C., October 16-18, 2017. Thank you to members and colleagues for contributing to the conference and helping to make it a success!
Equity in Education: Empowering Community Voice
Grantmakers stand in a singular place in their ability and responsibility to impact the lives of vulnerable populations and those with limited resources. This year, the conference will address equity issues through the lens of diverse community interests and investment priorities under the theme Equity in Education: Empowering Community Voice.                                   
"This struggle may be a moral one, or it may be a physical one, and it may be both moral and physical, but it must be a struggle. Power concedes nothing without a demand. It never did and it never will."
- Frederick Douglass, "If There Is No Struggle, There Is No Progress"
As Martin Luther King, Jr. argued in his last book, "Where Do We Go From Here," the choice facing grantmakers today is essentially between accepting chaos or rebuilding the social fabric of community.  Community-centered work demands the philanthropic sector recognize its privilege in order to ameliorate the grantee/grantor power differentials. This convening will provide participants the opportunity to hear from grantmakers, educators, learners, business leaders, policy makers and families about the challenges and opportunities of embracing community culture and opinions when addressing equitable solutions that are strengthened by local ownership.
What role should community play as drivers of sustainable change?
How do we move from a patronage model to a community-building model, bringing community voices into the design and planning of initiatives?
How can philanthropy amplify local and regional voices in policy and practice?
Our communities are clamoring to be heard by local and national policymakers. This year we will hold our provocative conversations in the heart of our nation, where so many decisions about education policy are made without representation from many who are affected by those policies and actions. With the White House in view of the conference hotel, just two blocks away, attendees will have a constant reminder to keep our conversations attuned to the nationwide importance and urgency of these issues.

Thank you to our sponsors:
Premier