2020 Annual Conference
Program Dates
August 3, 2020 - April 8, 2021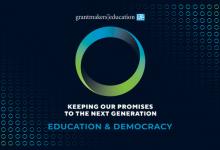 2020 Annual Conference
Centered on improving outcomes for every learner, our annual conferences are designed to challenge education philanthropists as they adapt to a rapidly evolving field that is ever more interconnected. 
Highly rated year after year, our conferences unite funders and experts in exploration of the deep and sometimes thorny education and philanthropic issues on the horizon.
Keeping Our Promises to the Next Generation: Education and Democracy
Our democracy—both its people and its systems—has reached an urgent moment. The future of young people in this country has never been so precarious, and the call for racial and economic justice has never been clearer. Those in philanthropy have a role to play in dismantling systems of oppression and supporting youth in leading us into a new day. Questions abound about how to respond powerfully, practically and with integrity:
How can our democracy and education system respond to calls for racial justice in a way that truly uproots white supremacy and builds equity and healing?
What essential capacities will learners need in order to bolster our democracy?
Will today's learners be ready and able to meet the promise of fulfilling work and meaningful contribution to society?
As we watch priorities rapidly shift through 2020, it is undeniable that our education system must become one that can be responsive to the rapidly changing needs of learners and society. A strong democracy and inclusive future depend on it.
We invite you to venture into big and brave thinking on these issues. Join with hundreds of education funders, experts and partners to explore the role of philanthropy in shaping and supporting a resilient democracy and vibrant public education for the next generation. Learn more and register here.
Agenda
Along with Grantmakers for Education members, we have planned an engaging and ongoing set of virtual offerings:
Conference Week. October 12 – 16: a series of high-profile speakers, case studies, virtual site visits and networking that emulates the elements of the conference that are highly valued by members.
Conference Year-Round. August 3, 2020 - April 8, 2021: a curated array of learning sessions led by GFE members on relevant and timely topics a regular basis.
Major Survey Release. During the conference period: findings from a new survey on the big vision for education in the recovery will launch conversations about how grantmaking priorities have evolved during the year's events and help chart a course for collective action. See the report here: https://edfunders.org/BigVision.