Out-of-School Time Monthly Stakeholder Convening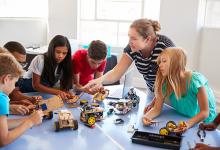 Join the GFE Out-of-School Time Impact Group for an ongoing conversation with funders, practitioners and other stakeholders centered on learning about and with the out-of-school time sector, focusing on essential issues in OST now and in the future. Each video call will dive into a specific content area, challenge, and/or opportunity for the field and feature experts in the sector and philanthropy.
Register once for the ongoing series and join as your schedule allows. Already registered? We'll send you a reminder of your meeting access beforehand.
Calls are scheduled from 12:00 – 1:00 p.m. ET on the third Friday of each month.
Coming up:
Friday, January 21: Strategic Partnership Possibilities on the American Rescue Plan and Workforce: Discussion with the US Department of Education.
Please join the GFE OST Impact Group on Friday January 21 from 12:00 -1:00 p.m. ET. Our speaker will be Shital Shah, Director of Strategic Partnerships, Office of the Secretary, U.S. Department of Education.  She will be joined by Melissa Moritz, Afterschool and Summer Learning Fellow, U.S. Department of Education's Institute of Educational Sciences. Join a small working group to contribute ideas on partnering with the department to advance solutions to American Rescue Plan/ESSER implementation and sustainability and workforce challenges.
Past calls:
Friday, December 17: Developing A Comprehensive Agenda to Support the OST Workforce.
November 19, 2021: Supporting Leaders of Color. Video here.
October 15, 2021: no call during GFE conference.
September 17, 2021: View from the Field - Workforce Challenges, Solutions & Policy Implications. Video here.
August 20, 2021: no call for summer break.
July 16, 2021: State Strategies to Support Summer Learning. Video here.
June 18, 2021: In honor of the Juneteenth holiday, there was no meeting on June 18.
May 21, 2021: Data and Evaluation in Out-of-School Time. Video here.
April 16, 2021: New Data on America After 3PM. Video and resources here.
March 19, 2021: The American Rescue Plan. Video here.
February 19, 2021: Out-of-School Time Mini-Unconference. This call was not recorded.
December 18, 2020: Policy Priorities of the OST Field: Discussion with Thought Leaders Ahead of Presidential Transition. This call was not recorded.
November 13, 2020: Post-Election Out-of-School Time Policy Forecast. Video here.
October 23, 2020: Amplifying Bright Spots and Effective Practices. Video and resources here.
September 18, 2020: Financing for Youth in the Age of COVID and Beyond. Video and resources here.