2021 Annual Conference
Program Dates
October 12 - 22, 2021; Sessions on demand through January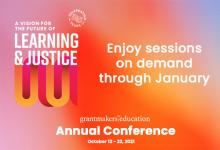 Registrants can attend sessions on demand here through January.
Centered on improving outcomes for every learner, our annual conferences are designed to challenge education philanthropists as they adapt to a rapidly evolving field that is ever more interconnected.
Highly rated year after year, our conferences unite funders and experts in exploration of the deep and sometimes thorny education and philanthropic issues on the horizon.
Celebrating 25 Years: A Vision for the Future of Learning and Justice
At this transformational time in American education, Grantmakers for Education is marking an important milestone: our annual conference is now in its 25th year. We will come together to reaffirm our commitment to supporting learners and to work toward a vision for the next 25 years. This past year's historic upheavals in race relations and in our economic and public health systems have shifted the role of schools, postsecondary institutions, and other learning venues.
Keynotes include Kerry Washington and Dena Simmons! Join us to learn and build pathways to the equitable future we seek for young people.
We are excited to present a robust conference experience with plenaries, workshops, a case study and 70 learning sessions live streamed directly to you, October 12 - 22.
Note: Due to concerns for health and safety, we have adjusted our plans: all conference programming will be carried out virtually.
Learn more here. Registration is closed.