Family Book Club: Stories of Diversity
Program Dates
October 12 - 16, 2020, 11:00 a.m. ET every day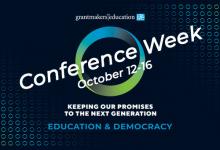 Conference Week Optional Session
Register & learn more here! Already registered? Join the live event venue here.
Join us for a fun and educational hour of storytelling and discussion with leading authors sharing their picture books. We welcome your children to join in, or feel free to come on your own. Each morning, a different author will read a story that elevates the voices and stories of a community that has been historically marginalized. Authors will read their stories out loud, and there will be time for you and your children to interact with the authors.
Monday: Teresa Peterson will read "Grasshopper Girl."
Tuesday: Essey Workie and Heldana Afework will read "The Magical Gabi."
Wednesday: Seamus Kirst will read "Papa, Daddy, and Riley."
Thursday: Cori Nakamura Lin and Saymoukda Vongsay will read "When Everything was Everything."
Friday: Author TBA.