2022 Annual Conference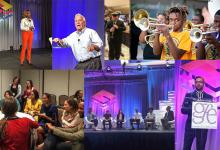 Celebrating milestones and pursuing more.
Our field is rapidly evolving, transforming faster than ever. What remains the same is how Grantmakers for Education and our members are dedicated to helping every learner receive the best education possible. Every single one. We produce conferences to make this happen. Mark your calendar for our next conference in Austin, Texas, October 18 - 20, 2022.
What attendees say about our conferences.
"The voices were so real and honest. It challenged me as a person and a grantmaker."
"Every single session I participated in was engaging and on target with the current needs in education funding."
"It's a great environment where you meet lots of different people who are very willing to share what they're working on."
"It broadened my perspective on the variety of approaches to grantmaking."